It is not a plain wooden toy where functionality is limited to imaginary shooting by means of yelling "Bang-bang!"
It is a proper mechanical spring driven toy gun that has outstanding performance and technical specifications, including the most important – a huge load of safe and peaceful fun!
Great fun to assemble and to play with.
Quite simple and comprehensive assembly will not take much time. Spending 1-2 hours, you can equip your whole family with these new toys and have a grand family fun-battle or shooting match.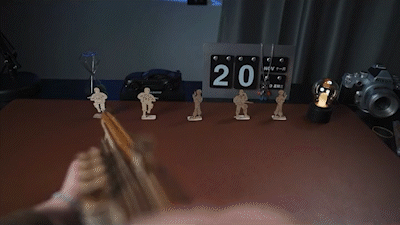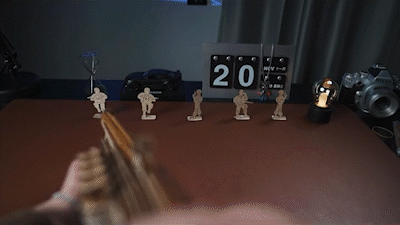 [Shooting Tips]
Load the rubber band on the bullet hook and chamber hook. Then rotate the chamber to load another rubber band, totally up to 6 shots.
Cock the hammer.
Aim. Pull the trigger. Fire!
Safe Rubber Band Gun
Enjoy a playful fight with family and friends
Justice Guard is a more interactive series for people to enjoy. The rubber band wood gun is designed in a revolver shape, with real-action release and safer bullets.
Edit Smith & Wesson Model 60 mimics a classic revolver firing scene, brings you a perfect group game with family and friends. Pull the trigger and return to the wild old west time!
Capacity: 6 rubber bands
Effective Range:16 foot
Rubber Bands:100
Action:Single Action
Assembly Time:1-2 hours
Take your time, and you will be rewarded
The kit has all you need for assembly: a set of high-quality plywood boards with precisely cutout parts, detailed step-by-step instructions, and additional details. The quality and accuracy of the parts is very high due to a laser cut method we employ.