ZEN Mode | Fragrant Light
In China there lived a carpenter who worked for temples for his whole life. He only graduated from elementary school, and his career had been building shrines, for days, months, years and decades, the work had been hard and tiring, but he worked tirelessly. He endured and overcame this "toil", worked diligently, and studied with great, great concentration. It was said that he even talked to his friends: his works.
People said he was a fool. But the carpenter never complained about anything. In those troubled years followed, the town was attacked by several earthquakes and other natural calamities. Inumerable houses went down, but many of his early works survived almost untouched. And people slowly started to notice the beauty and wisdom in his works. This time, they said he was a wise man. He was 70.

Now the story about "talking to his friends" was widely known to generations. When being asked, he said humbly: There resides LIFE in the trees.

He also said, when working, one must listen attentively to the voice of this "life" - when using wood from a tree that is thousands of years old, one's work must be able to stand the test of the weathers of thousands years, too. These moving words can only be uttered by people who work hard and live honestly all their lives. They are the living ZEN.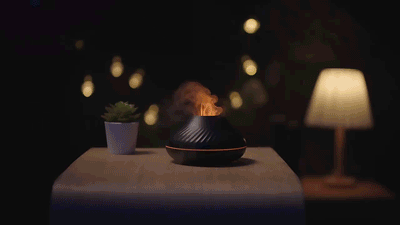 Kindly reminder: The fire you see is just a trick of light, it's not real. But, the tranquility you feel is a state of mind, it's real.
---
For an meditation, a romantic vibe, a good long talk with friends, a five-star hotel suite sleeping experience, or just for spending some quality time reading alone in your room.

Features: Flame effect, Aromatherapy, Diffuser, Quick charge, Power-off protection when water runs out, Light-Changing effect, Shockproof, Dirt-resistant.
Material: ABS,PP,AS,electronic components.
Size: 135*135*78mm
Weight: 182g. Weighs 260g if includes the package.
Input:DC5.0V/1.0A
Current:≤850mA
Power:≤4.5W
Oil/water tank volume:130ml
Spray volume:15-20ml/h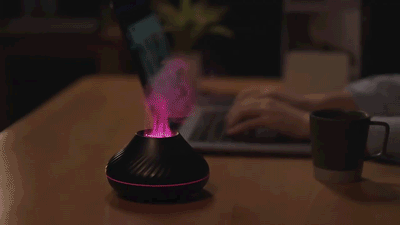 Add water to work as a steam humidifier.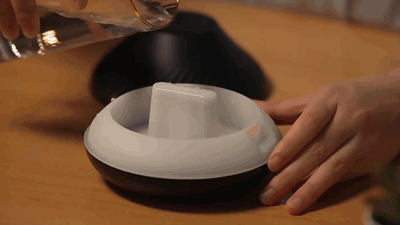 Add oil for a aromatherapy.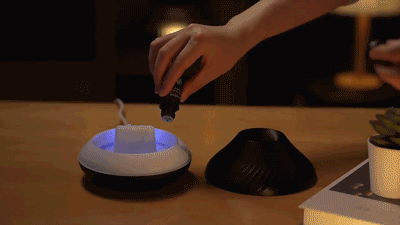 Easy to charge.