PLACE YOUR HAND ON THE SURFACE AND WATCH THE LIGHTNING FLASHES FOLLOW WHERE YOU TOUCH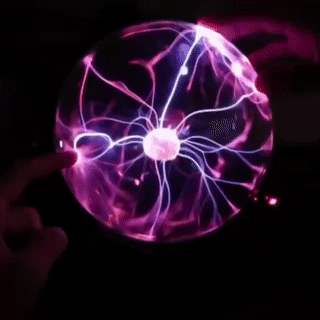 HARMLESS LIGHTNING BOLTS THAT RESPOND TO TOUCH AND VOICE
By sliding the switch to the audio setting, the plasma will respond to all sounds, including music and voice.

THE SCIENCE BEHIND THE
 

PLASMABALL™

The PlasmaBall™ is powered by a Tesla Coil. The Tesla Coil emits a high-frequency, high-voltage electromagnetic field. This energy causes nearby gasses to glow. The electric arcs are created when the heat up, speeding atoms collide and throw off electrons.

Placing your hand near the glass of the PlasmaBall™ offers an attractive place for the displaced energy to flow.
ALL ITEMS ARE CAREFULLY INSPECTED BEFORE SHIPMENT
10,000+ ORDERS AND COUNTING!
PRODUCT SPECIFICATIONS
Material: ABS, Glass, Aluminum Alloy Wiring
Dimensions: 4" w x 4" d x 6" h
What's Included:1 x PlasmaBall™
1 x 5V USB
1 x User Manual