Due to heat technology, no ink is used and there are no unnecessary costs. So you can print photos instantly anywhere!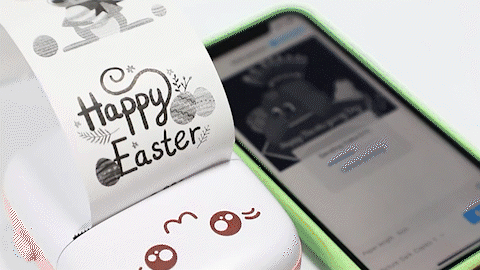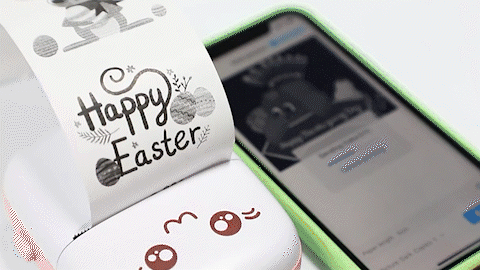 Lovely Portable Mini Printer, Mini portable printer, 4.3 x 3.1 x 1.4 inches, 160g, can be put in a pocket or bag, compact to carry. Built in 1000mAh rechargeable battery.
Multifunctional Printer & Ideal Gift, One-click printing, the picture printer supports photo printing, web printing, QR code, diary, scrapbook, storage label, memo, list. Mini printer for iphone and Android is an important gift for students, office workers, girlfriends, lovers, friends, family members.
Wireless Bluetooth Connection, Support wireless BT 4.0 with phone to connect with iphone printer easily and quickly in seconds, support Android and iOS operating system. Printer with high quality print head, can print 57mm (width) x 30mm (roll diameter) thermal paper, 203 DPI resolution.
Powerful APP, The app provides a variety of templates for you to choose from: including tags, lists, messages, and also provides a variety of material themes. You can directly print interesting and vivid pictures by selecting different types of materials.
How To Use It ? ---- Easy to Use Bluetooth Connected Printer
1. Download the compatible with '' iprint '' APP according to the user manual in the box.

2. Turn on the mini printer (Press for 3 seconds to turn on the light).

3. Turn on the phone bluetooth, connect APP and printer.

4. Load the thermal paper into the thermal printer.

5. Use APP function to edit and start printing.
CYEELVES ALWAYS SERVE CUSTOMERS:
Customers are our most respected friends, although choosing high-quality materials will lead to high costs, in order to enhance customer experience and comfort, we firmly resist inferior materials.

If you have any questions about our product, you can contact and we will reply to you within 24 hours.

If you are not satisfied with your purchase, we will Refund or Replacement you within 30 days.
Package includes:1*Mini portable printer+1*Print paper