BUNNY THE BUTCHER | Scary Mask
Sunday evening, on the side walk, there lies another body just oozing life. And someone's sneaking around the corner, Could that someone be Bunny the butcher?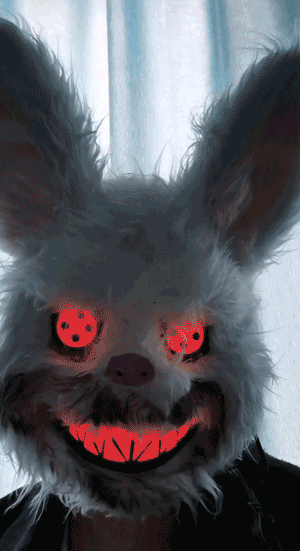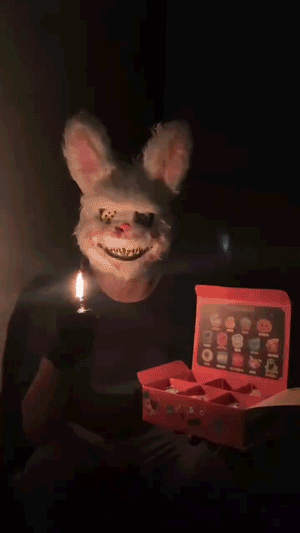 This scary bunny mask has ''blood stains'' that give it a really frightening vibe, making it a bunny killer costume choice for Halloween parties or for trick-or-treating. Special full face design and a T-shaped sponge in the forehead gap set for easy use and comfort for Teens and Adults! This mask with rough hair + bloody teeth effect + creepy smile create a "scary scary bunny butcher"look!

By the way ,as they are all handmade and the process take a lot of time, each one may come with very slight difference, but they do work PRETTY GOOD especially at nighttime. We highly recommend that you put more "blood stains" on the mask.
Also, we welcome your picture review!
Material: Plastic, microfiber, electronic components.
Weight: Butchers (with LED) weigh Around 200g.Daytime(without LED) killer weighs around 160g.
Size: 34*38cm(the mask is 3cm thick)
Features: Lightweight, Portable, Shockproof, Dirt-resistant, Easy to install
Usage scenarios: Halloween, Prank,Stage, Film studio...This classic item can be reused.
FAQ
Q: Are these mask heavy?

A: No. They are Lightweight.

Q: Is this product easy to use?

A: Yes. 3 modes: always on/quick flashing/slow flashing.The switch can be hold in hand or attatched to the mask and the AA batteries are easy-to-find everyday batteries.

Clients' reviews:



DETAILS: